If the happy couple has a classic sense of humor, then it's probably safe to write something funny in their wedding card. Just remember, if the loving couple doesn't appreciate sarcasm, go easy! Your friends may be pleased to know
that according to a study of 700 couples completed by Mathematicians at the University of Washington, couples who had the best chance of a long-lasting marriage were those with a sense of humor, who could tease each other and who were affectionate. So if your friends or family share these characteristics, you could be hunting for funny sayings to write in their 50th-anniversary wedding card!
Featured Video: If a funny, inappropriate song for a wedding is what you need, take a minute to listen to the Dixie Chicks' song 'White Trash Wedding' – the lyrics are a riot and their talent is fierce!
Funny Sayings to Write in a Wedding Card
Below you'll find a collection of witty sayings you can write in a 'just about to be married' card:
1.  There's really no need to take the plunge when you've been doing the doggie paddle for years!
2.  Love is the answer to everything; stick with that crap, and you'll be ok
3.  The two of you getting married gives hope to all of humanity (not really, but I had to write something loaded with bull)
4.  Marriage is happiness times two; anger times two and frustrations times three (the third comes in when her best friend is contacted)
5.  When in doubt, drink [Tweet This]
6.  I wanted to get you a life preserver as a wedding gift, just in case [Tweet This]
7.  Do not tell anyone you're getting married – too late we're all looking forward to the free booze
8.  You will have moments when you really love each other; then there will be the rest of the time
9.  Hold on to how you feel about each other today; you'll need it by year seven!
10.  Stay in love, stay married, stay hopeful, most of all, stay together – divorce is too expensive
11.  You are making a promise to have and to hold for life (you do realize that?)
12.  If you're not going to put on a life jacket before taking the plunge, at least take swimming lessons
13.  The two of you are a symbol of what love is when the blinders are on!
14.  You will fall in and out of love many times while married – just make it with each other o.k!
15.  Rule number one once married: don't talk to people of the opposite sex, naked
16. When you're looking for a way out of this marriage, remember to search for your wallet first!
17.  On windy, rainy days, stay in the house and enjoy each other (strip twister usually works)
18.  Nike's slogan is 'Just Do It' – they weren't talking about getting married, you idiots!
19.  Treat your marriage like a hockey game; no roughing! [Tweet This]
20.  When he's been a bad boy, make love to him to confuse the crap out of him
21.  Just because you can control him, doesn't mean you should (do not take the advice in this card)
22.  Keep Calm and Get Dressed Fast – Let's hope you never need to use this advice!
23.  Keep Calm and Don't Do It!
24.  Duck and Cover isn't something you do on a Honeymoon
25.  Your wedding day is a celebration of love; some say shock; I say, love
26.  If you're feeling faint and vomiting on your wedding day, remember 'the hair of the dog'
27.  It takes two to tango, be sure you're not the only one dancing! [Tweet This]
28.  Don't take any crap, ever (unless there's a lot of money involved, then take a little)
29.  If you think you're in love, you probably are – damn
30.  Your heart is like a soft shell taco, wrapped up tight and easy to chew up #lovehurts [Tweet This]
31.  Stop being so easy; it makes me look bad!
32.  The last time I checked, you weren't kissing anyone's ass – what happened? [Tweet This]
33.  Hen pecked is only a hen who pecks (yah, hold on to that thought)
34.  Congratulations on having your balls tagged [Tweet This]
35.  Marriage doesn't mean you own the other person (just all their stuff)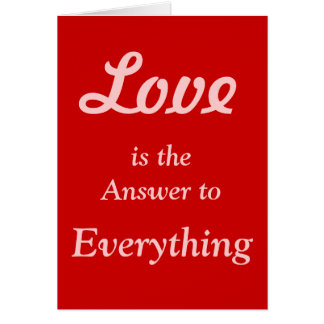 Funny Wedding Card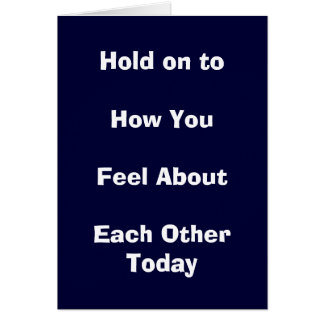 Funny Wedding Card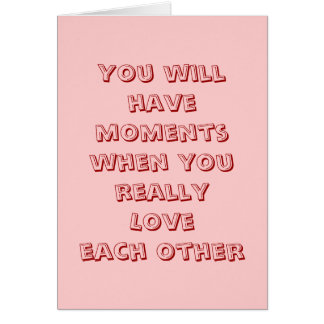 Funny Love Wedding Card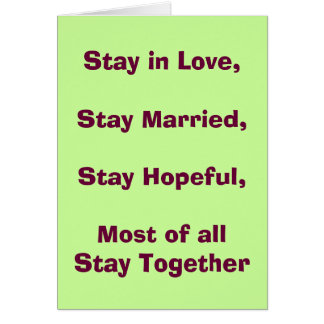 Funny Love Wedding Card
This blog post has been Digiproved © 2013-2017 Barbara (Tremblay) Cipak
Please follow and like us:
Tags: Ad, Card Sayings, Funny Sayings, Love Sayings, Wedding Card